Safe Boating Instruction in the Kawarthas Since 1959
Welcome to our Gallery
where you will see that we have lots of fun.
Peterborough Power and Sail Squadron set up at display booth at Rock The Locks held in Buckhorn on August 26, 2017. It was a fun day with community displays, things for the kids to do, antique cars, BBQs, crafts, etc.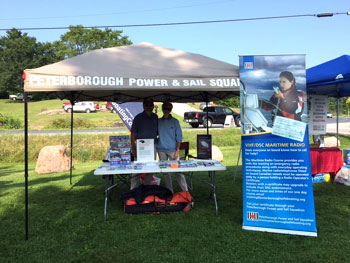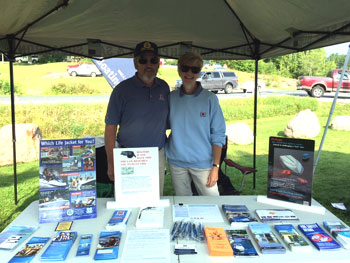 Peterborough Power and Sail Squadron celebrated Canada's 150th Birthday in style participating in the Peterborough Canada Day Parade. Chris McMahon's sailboat was pulled by P/C Leigh Mellow's truck and the float was decorated by Commander Gina Lee, Leigh, Chris, and Mel Little. Chris actually rode the boat as it rolled down George Street!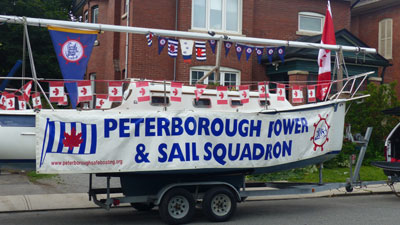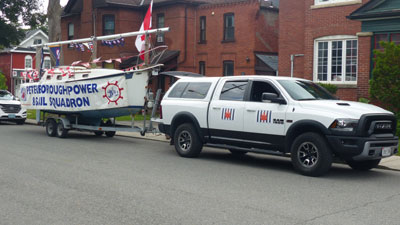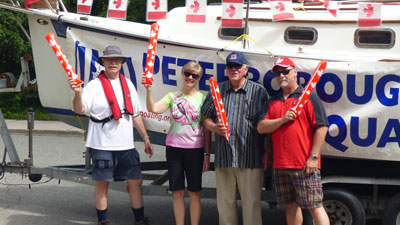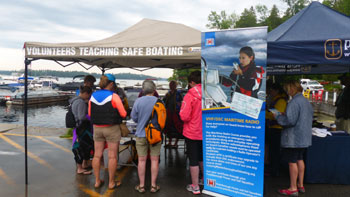 Women Making Waves, an education program by Paris Marine for women to help them become boaters, was held at McCrackens Landing on Saturday, June 17, 2017.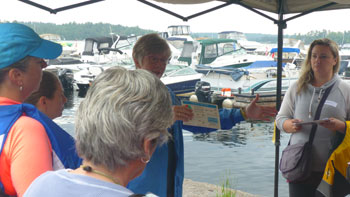 Peterborough Squadron Commander Gina Lee taught Mandatory Safety Equipment and Rules of the Road and Paris Marine staff taught how to trailer and get the boat in/out of the water, and then took participants out in a boat to teach them how to handle a power boat. This is a great program, and Paris Marine also now offers "Children Making Waves."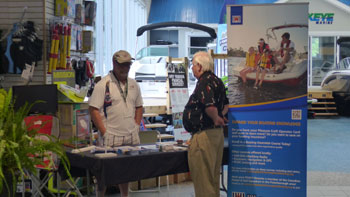 Peterborough / Kawartha Lakes Squadron Flare Return Day, Friday, June 16 and Saturday, June 17, 2017 at Buckeye Marine in Bobcaygeon, a joint effort by the two Squadrons, organized and hosted by Leigh Mellow.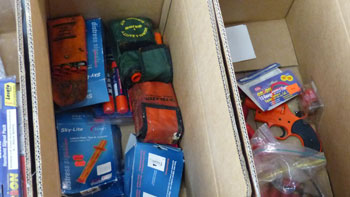 2017 Safe Boating Week Kick Off May 21, 2017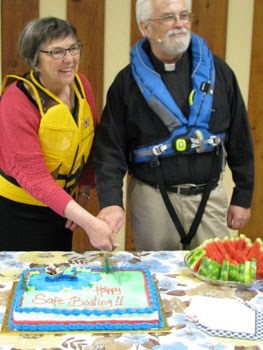 Safe Boating Week was celebrated with a Kick Off at St. Johnís Anglican Church in Lakefield, Ontario. A special service and blessing for all boaters and their crew was performed by Squadron Membeer Reverend Munroe Scott. Those that attended wore life jackets and brought items from their boats to be blessed. Nautical hymns were performed by members of the St. Johnís Church band. Mayor of Selwyn, Mary Smith took part in the festivities by assisting Munroe Scott in cutting a boating themed cake provided by members of the Peterborough Power and Sail Squadron. An information table was also on site and staffed by Squadron volunteers.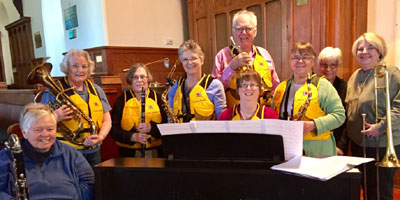 Quinte District Commander Jim Lee presented Peterborough Power and Sail SquadronCommander Gina Lee with the 2016 Trophy for the most RVCC checks in Quinte District (63 checks last year!) at the Quinte District Annual Meeting held in Cobourg May 13, 2017.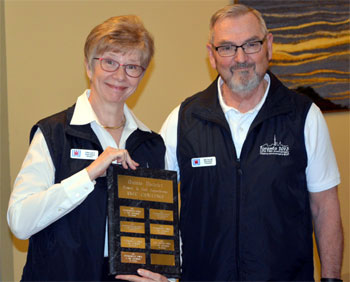 Peterborough Power and Sail Squadron AGM May 6, 2017
Quinte District Executive Officer Christine Vos from Oshawa Power and Sail Squadron conducts the Change of Watch
with Sqadron Secretary Martha Scott.
More Photos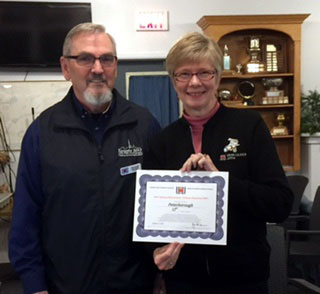 Squadron Commander Gina Lee accepts the CPS Foundation Certificate from District Commander Jim Lee indicating that Peterborough Squadron made its 12th Honour Roll donation in photo at right. Presentations were made at the Quinte District Council Meeting in November, 2016.
End of Season Potluck / Graduation, November 5, 2016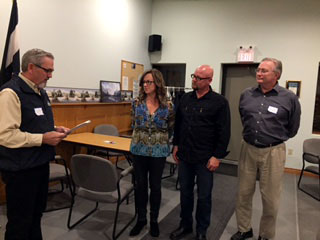 Shown above are 2016 Boating 2- Beyond the PCOC graduates Katrina Murphy, James Murphy, and John Cunningham
who were welcomed into our Squadron by Quinte District Commander Jim Lee at our annual End of Season Potluck.
More Photos
Visit our Gallery of Squadron Memories. Be sure to watch for links to full photo pages. Do you recognize anyone? Can you remember the event? Are you there?