A Wonderful Week at Binnacle
Catherine McLeod, AP
Note: Binnacle Island is located in the pristine Canadian Thousand Islands just south of the mid-channel marker at the end of the Bateau Channel and Canadian North Channel or 44 °18.08 N and 076 °11.37 W. Owned by the Syracuse Sail and Power Squadron, Binnacle Island is available for weekly use, for a specified donation, (Saturday to Saturday) during the summer seasons.
Canadian Power and Sail Squadrons (CPS-ECP) Quinte District Commander Jack Scott summed up Binnacle Island in one sentence: "This sure isn't a boring island!"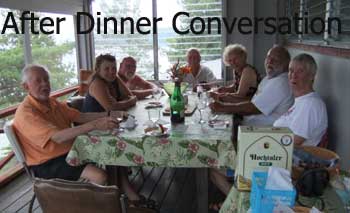 In July 2011, the CPS-ECP National Administrative Officer Catherine McLeod AP, her husband Bill Barthorpe P,(members of Peterborough Power & Sail Squadron); the CPS-ECP National Secretary Elaine Jeffery P, her husband Jim Jeffery, (members of Prince Edward Power & Sail Squadron); the CPS National Communications Committee Chair Tony Cook S, his wife the CPS-ECP National Recording Secretary Annie Cook N, (members of Toronto Power and Sail Squadron); Quinte District Commander Jack Scott P, and his wife Peterborough Power and Sail Squadron Social Officer Elsie Scott all spent a week on Binnacle Island, travelling there on Catherine and Bill's 36 foot cruiser, Seaero.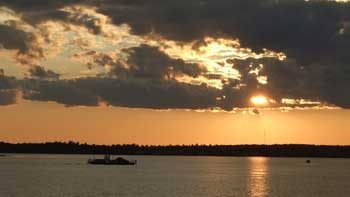 Everyone had a great time - some fishing, others swimming, Tony on the back porch painting, everyone reading in the shade outside or on one of the porches, knitting and doing needlepoint, and generally enjoying the many vistas visible from the island. As Jack stated, no matter which direction you looked there were boats, boats, and more boats to see, activities on nearby islands to watch, and the antics of the local Heron diving for food.Each night the sunsets were spectacular.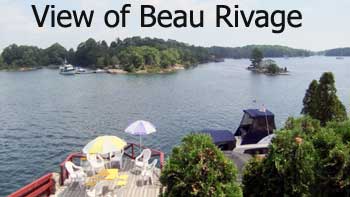 As CPS-ECP members we were of course analyzing all docking taking place at Beau Rivage and Aubrey Islands, anchoring attempts in the bay to the east of the island, houseboat antics in the channel, and the Ontario Provincial Police stopping boaters who faced heavy fines for not having their Pleasure Craft Operator Cards or proper equipment on their vessels.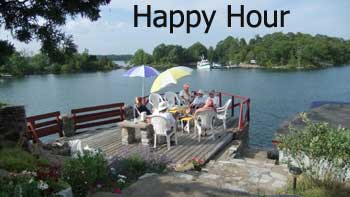 Daily we all came together for an "attitude adjustment" (read Happy Hour) around 1600 followed by a sumptuous meal prepared each day in turn by one couple (everyone is now on a diet!). Mid-week some of us travelled to Gananoque to stock up on food, water, and other libations as well as do some souvenir shopping. That day turned out to the only "storm day" forcing us to wait out thunder, lightning, rain, and wind at the day dock for an hour. Back on the island, Jack and Tony battened down the hatches during the storm. Otherwise every day was sunny, bright and warm!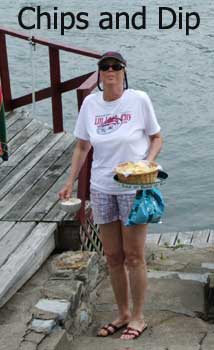 Jim was our "super" fisher, with some help and advice from Bill, and even caught enough fish for one morning's breakfast as well as a few to take home.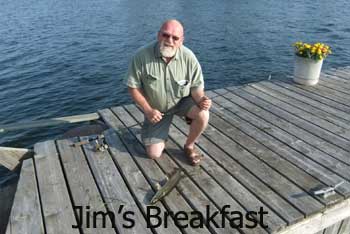 We all read with interest the article on Col. Chapin hanging on the wall that gave the history of the island. Then early one morning, a neighbour in his kayak came to talk to us. He reminisced about visiting Binnacle as a boy, when Col. Chapin was still in residence and jumping off the deck and rocks facing the Bateau Channel. His qualification for doing that was that at that age he did not realize "he had a life ahead of him." We certainly would not recommend anyone trying this feat at any time in the near future.
Elaine kept busy making sure in the heat the beautiful plants and potted flowers were well watered and Tony took many pictures of the vibrant colours to aid him with his paintings. Elsie brought along a 1000 piece jigsaw puzzle that challenged us all. I was sitting on the dock when I heard whoops and cheers from the cottage on Friday afternoon. Elaine with the help of Elsie and Annie finished the puzzle!
We had three sets of visitors during the week. P/C Ron Beebe, Co-Chair of the Binnacle Island Committee with Syracuse Sail and Power Squadron, dropped by to check the phone. Another couple from Catherine and Bill's marina at Treasure Island joined us for a tour of the island and are interested in visiting again. Prince Edward Power and Sail Squadron Commander Mal Stokes and his wife Carole came over from Macdonald Island for a visit and also received the grand tour. They do want to visit again.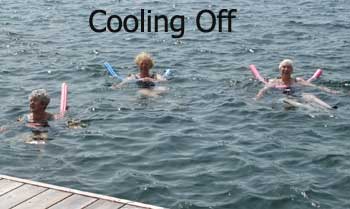 Since Friday was one of those hot steamy days, Annie declared it was swimming day and we ladies alng with Bill spent several sessions in the cool, clean waters of the river refreshing ourselves.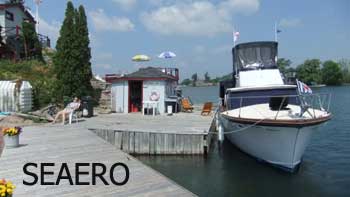 Saturday morning everyone got busy on clean up to leave the cottage and environs in good shape for the next guest. As we departed the dock, we all waved a fond farewell to our week's home and headed with some regret back to our daily lives in the city.