Peterborough Power and Sail Squadron
Safe Boating Instruction in the Kawarthas Since 1959
Quinte District CPS-ECP 75th Anniversary Flag Relay, Cobourg Yacht Club, June 23, 2013
Photos supplied by Jim and Gina Lee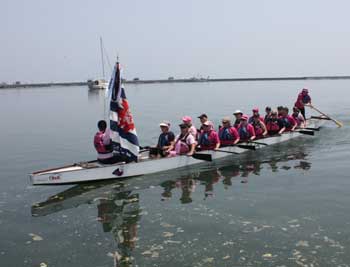 Two CPS-ECP 75th Anniversary Flags were delivered by USPS Chief Commander John Alter, SN and received by CPS-ECP Chief Commander Richard Bee, AP on May 5th at Windsor Yacht Club, where CPS-ECP has its beginnings in 1938, blessed by Fr. Stan Fraser and then sent on a journey: one West to Vancouver Island, BC and one East to St. John's, Nfld. Stopping in each CPS-ECP District and most Squadrons during their journey, the flags will return to the CPS-ECP Annual General Meeting in Toronto on October 26th where we will be culminating our 75th anniversary celebrations. One flag will be retained by CPS-ECP and the other will travel to the United States Power Squadrons (USPS) 100th anniversary celebration in January 2014 to symbolize the importance of the role that USPS had in our beginning and our growth... eventually coast to coast.
For the Quinte District celebration, the flag was carried to shore by Quinte District Secretary Gina Lee in the Dragon Boat, The Noble Lady along with members of the Peterborough Survivors Abreast and the Cobourg Survivor Thrivers.
| | |
| --- | --- |
| | |


On hand for the event were Peterborough Survivors Abreast President Gloria Wray and Cobourg Survivor Thrivers President, Siobhan Kenny, along with several paddlers. Representing the City of Cobourg was Mayor Gil Brocanier (pictured at left below), who expressed appreciation the relay flag made its stop in Cobourg on its way to the East Coast. Representing the Province of Ontario was MPP Rob Milligan (pictured at right below) who presented a congratulatory scroll from the province. Cobourg Yacht Club Commodore Tony Pitts thanked Quinte District for holding the flag relay event at the club.



Everyone who attended the event enjoyed a barbecue and visiting with District friends, while also enjoying a piece of anniversary cake. A display was set up including information on the background of CPS-ECP, the flag relay, and a photo of HRH The Prince Philip, the Patron of CPS-ECP, with one of the anniversay flags in his library at Buckingham Palace.