Peterborough Power and Sail Squadron

Wendy & Graham's Journal 2007

Westward Ho in the Caribbean
What a Difference With the Winds in Your Favour
December 22, 2006 - February 1, 2007
A = Anchor; M = Mooring Ball or Marina
Antiqua
December 22-27 Jolly Harbour (A). Lat 17 04.574N; Lo 061 53.569W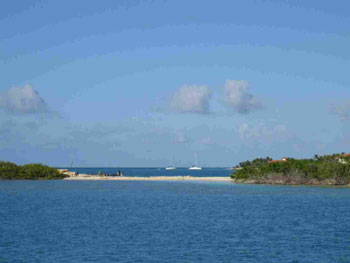 This is where we have decided to meet our son Andrew when he arrives on Christmas Day. On the way here, two belts broke (one for the autopilot and one for the starboard engine). Ah, no big deal: we can handle all that stuff now. Received the repaired water maker, finally, and it seems to be working well. Wendy checked all the first aid and safety supplies and we did several other year-end maintenance 'things'. Lovely quiet Christmas Eve. Managed to phone Dad, Sam, Auntie Marge, Dave and MarvMar, Uncle Gordie and Auntie Jenny. We miss them all.
On Christmas Day, we picked up Andrew, guitar and all. What a great present. He seemed to be very happy to get on the boat and took off in the dinghy almost immediately.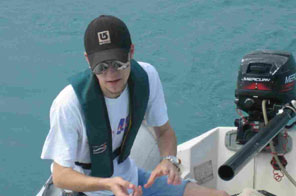 The kid is a genius at fixing things and spent hours and hours sorting things for us. He rigged up a spare autopilot (given to us as 'junk' many months ago) and rewired it all so the GPS feeds directly into the system. So good to feel we now have two functioning autopilots as they see a lot of use. He installed two footswitches for the port windlass so we can operate it directly at the bow as well as from the cockpit. Spent hours helping the neighbour try to fix their outboard though that task proved fruitless and Andrew enjoyed ferrying the guy to/from shore. He also had a friend ashore and visited with her a few times. We watched several DVDs together though they were 'guy stuff', more enjoyable to Graham. I just relished in cuddling up to my kid.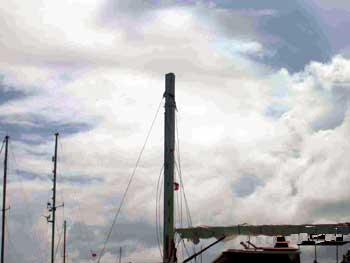 December 28 - January 01 Falmouth Harbour (A). Lat 17 00.971N; Lo 061 46.354W
Back to Falmouth Harbour for a change of scenery for Andrew and free Internet.
January 02-03 Jolly Harbour (A). Lat 17 04.578N; Lo 061 53.546W
Ditto, but had to pay for Internet.

January 04 Maiden Island (A). Lat 17 08.643N; Lo 061 45.902W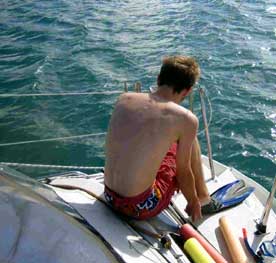 Tried to find a good spot for snorkelling at Bird Island (very beautiful) but we gave up due to poor visibility.
**We had a surprise visit by the Antiguan Coast Guard at 0615. They actually did board our boat and politely went through the motions filling our their paperwork. They were very nice but it was probably not too exciting dealing with two grey-haired benign-looking seniors and their son. Anyway, we are glad they are out there! Oh, and incidentally they alerted us to the fact that Montserrat (our next planned stop) was on Alert Level 4 due to volcanic activity and there was lots of smoke and ash. We confirmed this on the Internet and eventually decided it would not be wise to go there. Disappointed.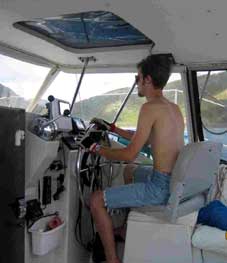 January 05-09 Jolly Harbour (A). Lat 17 04.560N; Lo 061 53.539W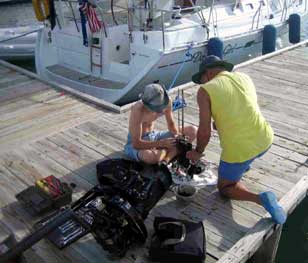 Back again to Jolly Harbour as this will be the easiest place from which to get Andrew back to the airport. It certainly has a lot of conveniences. Enjoyed a nice visit with Cliff and Melanie (S/V Cliff's Note) who we last saw in Grenada. On 09 Jan, Wendy woke up to the smell of burning (oh, I have a good sniffer) - the wind generator regulator was 'fried'.
**Sadly (ha, that means expensive), the outboard motor really died this time due to 'problems with the lower unit'.
**We decided to tie up at the marina (more expense, $1.70 a foot plus water and electricity costs) as it was a little far to row the dinghy and we did not want to take a chance of not getting Andrew to the airport on time. Andrew and Graham hauled the outboard to the dock and worked hard, to no avail. We stored the outboard in the lazarette to be worked on another day. In the meantime, we chatted around to figure out how best to resolve our lack of transport from the 'mother ship' to land. Decided to reroute ourselves entirely to go to St Barts and in fact saved ourselves at least $300 on the new purchase.
**Very, very painful to say goodbye to Andrew and Wendy was tearful for several hours after he left. This is the toughest part of our peripatetic life though we know he is safe and happy in Canada.
St. Barts
January 10 Gustavia (A). Lat 17 54.411N; Lo 062 51.497W.
After an easy overnighter from Antigua, with reefed main and genny, we checked into ritzy St Barts. Whew - this is definitely the place for the rich and famous [not us!]. Everything is very expensive. A 5-minute water taxi from our boat to shore cost $45! We were pretty upset about that and determined to hitch a ride back with someone else even if we had to lie down on the dock and beg. In fact, another Canadian took pity on us and drove us AND a new Yamaha 8HP outboard back to our boat in his dinghy. The anchorage was rolly and though we enjoyed our sun downer, St Barts was not our favourite place (probably upset about the spending!) and we determined to move on.
St. Martin
January 11-16 Marigot Bay (A). Lat 18 03.928N; Lo 063 05.438W
It was a lovely pleasant 5-hr sail to Marigot Bay where we had stopped in the spring. It certainly makes life easier when you know all the ropes and have no anxieties wondering where to find things. We caught a mackerel on the way and oh my, did we enjoy our yummy fish dinner and sundowners. Ah, life is good.
We did lots of price-checking in this yachty haven catering to 100s of boats to find out what might be cheaper than Puerto Rico where we intended to do our major provisioning prior to heading to the Western Caribbean.
January 17-20 Christiansted (A). Lat 17 44.905N; Lo 064 42.466W.
The 20 hour journey to St Croix was awful. Higher winds than forecasted were on the stern quarter. This would have been fine except for the north swell on the beam and it made for such an uncomfortable motion. The waves were like mini-mountains. Graham stayed at the helm all night as we felt under the weather, close to needing the barf bowl.
He told me later that he had never seen such huge waves and on one occasion he was frightened that a mountain might break over us. There were huge floating sparkling apartment blocks (cruise ships) all around and at one point six ships were on the radar at the same time. We even called one on the VHF radio as it barreled down on us to make sure our tiny little boat was on their screen. "Yes", a lovely British accent came back, "we have been eyeing you for the last 45 minutes". Whew.
In spite of all this, the boat performed so well, sailing with only a reefed genny at 5 knots, no motor! Amazing that such a little amount of sail could pull our boat along so well. By the way, it is rarely this bad. In fact, we had never seen such huge waves before. Oh, and all the action shook up something in the head system and there was a horrible smell when we opened the forward hatch!
Vieques (Spanish Virgin Islands, part of Puerto Rico Territory)
January 21 Ensenada de Honda (A). Lat 18 07.275N; Lo 065 20.763W.
We sailed all the way to Vieques, averaging 6-8 knots. Very nice and comfortable. At long last - a skinny-dipping anchorage. We could see S/V V'ger in the distance but they would need good bino's to see us. Anyway, we had met Steve and Rhonda several times on the way north and they were probably skinny-dipping too. It was the first dead-quiet anchorage in weeks and we loved it. We woke up at 0400 just to admire the stars and check out the phosphorescence.
January 22 Esperanza (M). Lat 18 05.532N; Lo 065 27.373W.
We dallied at Ensenada des Honda in the morning before making the short journey to Sun Bay at Esperanza. After swimming over the anchor, we did not like the setting in the thick grass ('Teflon-coated', as our guidebook reported) and later we moved to a free mooring ball. We tried to phone US customs - no answer- and we got in trouble for that later! (See below.) St Croix has a separate clearance system than that of Puerto Rico and their big islands of Vieques and Culebra.
Puerto Rica
January 23 - February 1 Salinas (A). Lat 17 57.154N; Lo 066 17.538W 1nda (A). Lat 18 07.275N; Lo 065 20.763W.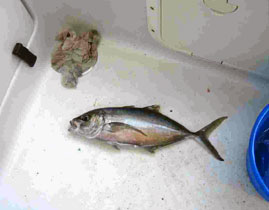 We had to motor the whole 8-hour journey to Salinas (the main was useless in the dead downwind conditions) but it was comfortable with seas and wind behind us. The Cuban reel jerked off the lifeline with a bang and we caught a small jack. We're going to stay in beautiful flat-calm Salinas for a couple of weeks. A manatee visited us several times. The marina is so accommodating and it is so quiet. Rented a car twice to do some major provisioning before we go to Cuba. Spent a lot but it was all planned.
**We had an exciting time with US Customs and Immigration. When we phoned to clear in from Salinas, we were told that we had to go to Ponce immediately with the boat. (Last year they let us take a bus to the clearance point!) Oh dear. We were pretty upset as we were comfortably anchored. So we upped anchor and sailed to Ponce (4 hours) getting there just an hour before the office closed. The marina charged us $10 each just to tie up to their dinghy dock and then it cost $20 in taxi rides, as we had to get to the office fast. !@#$% We were so mad. The customs people were very pleasant as usual (like most of the friendly Puerto Ricans) though they never even looked at the boat. However, we are glad we followed the rules: they had records on us going back several years. Anyway, we got our new cruising permit and we are now 'legit'. We left at 0330 to beat the easterly trades (it was flat calm) on our way back to Salinas where we were even more determined to stay as Ponce is a little too developed for us.
** We now sleep with a light sheet cover or PJs as it gets into the 70s at nights.
**At this very moment, Graham is struggling to figure out why air is getting into the starboard engine. He has been at this for a couple of days. It never ends but our attitude has changed so much. C'est la vie.
Be sure to read the other instalments of Wendy and Graham's journal
The Adventure Continues.... 2007:
Part 2
Part 3