Safe Boating Instruction in the Kawarthas Since 1959
Have you ever wondered what makes the liftlock "lift"? Join us on September 30 and find out...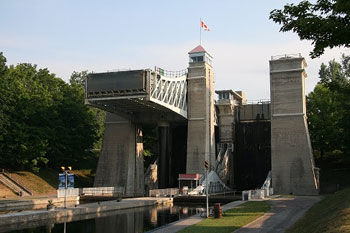 The Peterborough Power and Sail Squadron has the privilege of an exclusive tour of the liftlock, including all its engineering wonders! Learn its historic background and see it in process... up close and personal!
Saturday September 30
Meet for lunch at Smitty's Family Restaurant, 139 George Street North, for lunch at 11:30 a,m.
Meet at Lock 21, Peterborough Lift Lock, National Historic Site of Canada, Ashburnham Drive, at 2 p.m. for a personal tour.
Please let us know you're coming! or call Jean or Leann at 705-927-8187 to book your spot on the tour
Friends and family are all welcome!
---
For further information on any social events
Check out our Gallery of Squadron Memories to view events from past years.
Or view our PowerPoint Presentation of Squadron Memories